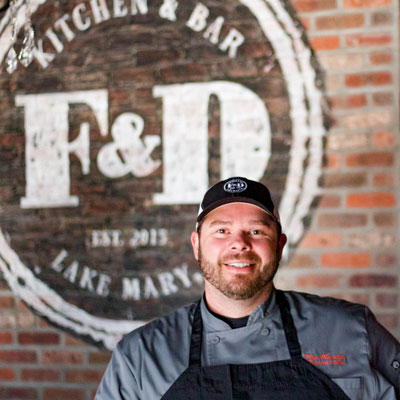 With a creative yet familiar menu and a stylishly laid-back decor, F&D Kitchen and Bar draws discriminating locals for casual Lake Mary meals.
Charly Robinson knows folks won't drive up from Dr. Phillips or Conway to dine at F&D Kitchen and Bar. That's by design. "We are all about taking care of the local population," Robinson says of the stylishly informal restaurant with a chef-driven scratch kitchen located in Park Place at Heathrow shopping center. "We designed F&D Kitchen to have a community environment with an appealing combination of food, service and atmosphere where locals can get a great meal consistently."
One of Lake Mary's few independently owned eateries, F&D Kitchen has indeed become a regular stop for area residents since its opening in June 2015.
One reason is the decor, which has a laid-back urban vibe. Raw woods and red bricks blend with elegant chandeliers, mid-century modern lampshades and an assortment of fabrics. The "eclectic and rustic and current and minimalistic" place is so welcoming, Robinson laughs, that "people don't want to leave" – which can be a challenge during busy mealtimes. "Guests really like our comfortable great feel," he boasts.
Food quality, of course, is paramount, and the F&D Kitchen team went all-in on the culinary program. Their chef is Pete Morales, who spent time with the nationally renowned restaurant groups built around Miami's Michael's Genuine Food and Drink and Yardbird Southern Bar & Table. At the helm of the Lake Mary Kitchen, Morales used that respected foundation to create the type of menu the owners felt were "missing from the market." Essentially, he puts out classic comfort foods, elevated a notch or three, and weaves in unusual flavor combinations.
The seared sea scallops, for example, are served with coins of creamy fingerling potato, plus white hominy, fried ham, green tomato, cauliflower and a chili emulsion. Even a simple pork chop is dry-aged and served with peach relish plus a cornbread-tasso stuffing.
Before we dove into the seafood, we split a "Social Eats" plate of lamb meatballs – richly flavored orbs with a deep San Marzano tomato sauce, plus a fresh burrito salad with heirloom tomatoes and a lively champagne vinaigrette.
In addition to the scallops, we chose steak frites with a sizzling bundle of herbed fries and a housemade steak sauce for a main course. We also ordered a hearty, thick pork chop.
Desserts are equally thoughtful. How about a bag of donuts with powdered sugar and lemon curd sauce?
The chef sources ingredients locally wherever possible, but will reach out of state for foodstuffs when the quality is better.
Beers are largely local, too, with most drafts from Central Florida breweries. Craft cocktails round out the menu.
Robinson is new to independent restaurant ownership but a restaurant industry veteran. He was recently CEO of California-based RealMex Restaurants. In the past, the former executive was chief operating officer of Rainforest Café and "during the growth years" and president of the now-defunct EBrands for eight years. He returned to Orlando after time in California to be near family. His partners in F&D are his son (and F&D Kitchen's general manager) Tim Barber, and Neil and Glorian Leach, former owners of Barnie's Coffee.
F&D Kitchen was the ambitious team's first restaurant, followed by a Mexican restaurant called F&D Cantina that serves authentic and gastropub-style south-of-the-border fare. F&D Cantina is in Waterford Lakes. Don't be surprised to see more variations on the F&D brand around town, each with its own décor, chef and menu.
Still, the Lake Mary restaurant gets ample attention. Its 170 indoor seats and 40 alfresco alternatives – in a courtyard with a fountain, flowers and trees – has already become an integral part of the community. The restaurant was a sponsor of Tee Up for Life, a golf fundraiser for cancer, and hosts events in conjunction with Lake Mary schools.
"F&D Kitchen is designed to be a place where people will come back on a regular basis," Robinson says. "Our average check is in the $30s, which is significantly lower than competitors'. We get the crowd that wants a warm, comfortable space and who enjoys the understated/sophisticated decor where neighbors can get a high-quality, one-of-a-kind meal and feel like they are in their living room."
F&D Kitchen and Bar
1541 International Parkway, Suite 1001, Lake Mary, FL
407.915.5687