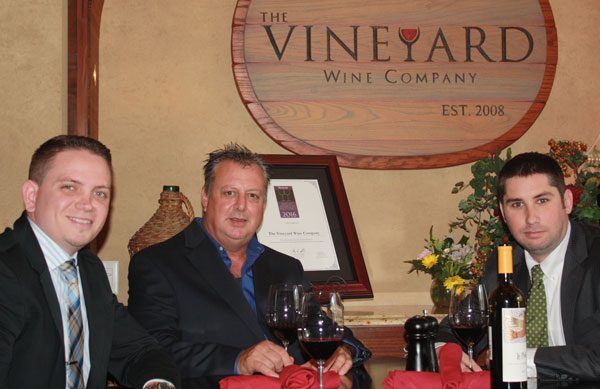 The Vineyard Wine Company's owners pride themselves on creating a welcoming vibe.
Robert Jones was happily tinkering in a music engineering job in Tuscaloosa , Alabama, when his mother called from Seminole County with an unusual question. "Robbie, What do you think about moving back home with us for a little while and helping us with this wine bar we've been talking about?" she asked. Confident that his sister, Erin Caneza, and father, Tom Jones, had the project under control, Robbie lifted an eyebrow and asked, "What's going on, Mom?" He was going to be an uncle, as it turns out – beautiful news in general but inconveniently timed for a woman deep into developing a wine bar and retail shop.
That was in 2007. Robbie stepped in to assist, stayed around for the 2008 debut … and now is as integral to The Vineyard Wine Company as the enterprise – now a full-fledged award-winning restaurant – is to the Heathrow community. Located in Colonial TownPark right by the multiplex, The Vineyard Wine Company is a cozy yet busy family-run place for folks looking for a single glass of fine wine at the bar, a three-course dinner in the dining room or even a private event in a more serene seating area, which was originally the retail shop.
With the help of general manager Dan Richey, who is so key to the operation that he's now a partner, The Vineyard Wine Company has evolved into a neighborhood staple.
Stroll in any evening and you'll feel like you're entering a friend's party. The décor is cozy with stone and brick, plants and oil paintings in Old World frames, even a gas fireplace, but that's not enough to explain the vibe. According to Jones, it's the family's love of hosting guests that spins into the ambiance.
"My family always had big parties. We love to entertain," He says. "We love our friends, we love our family, we love our community, and we wanted to have a venue where we could pretty much open up the door and offer the same feeling my sister and I had growing up." It's a challenge to pass that verve onto hired staff, but the Vineyard folks believe they have what it takes. "When you love your guests and you love what you do," that's effective, Jones insists. "You can't fake passion."
To illustrate, Jones details a kind of interaction he sees regularly. "A customer comes in, grabs a seat at the bar and asked the bartender a few questions about wine," he relates. "The bartenders are here because they like wine and like interacting about wine. While one is talking with this customer, a couple of regulars join the conversation. By the end of the night, they're all acting like long-time friends."
The Vineyard Wine Company began with a menu of tapas, or small plates, but over time moved more toward standard appetizers, entrees and desserts. The flavors hail from around the world, and the culinary team, under the direction of Sous Chef Liz Lasher, have fun in the kitchen. The restaurant's staples stay the same, and specials allow for staff creativity.
If the Vineyard team took the meatloaf off the menu, regulars might revolt. "This is not your cafeteria meatloaf," Jones says of the bacon-gouda meatloaf. "We're talking about melted chunks of gouda, and shallots, and Applewood-smoked bacon, and fluffy mashed potatoes and green beans and a demi-glace sauce." His personal favorite? The pork chop with creamy mushroom risotto. Entrée prices range from $18 to $43.
I snuck in for a sample dinner before interviewing Jones enjoyed the cozy yet lively vibe and the breadth of menu selections. My guest and I began with a fresh log of yellowfin tuna. It was raw within, yet seared with a rust of macadamia nut and black sesame on the exterior. Pacific Rim fruits added a tropical twist. We also had a fresh Caesar salad with a refreshingly intense flavor.
For entrees, we filled up on two dishes. One was a generous plate of capellini (thin spaghetti) tossed with crispy pancetta and flavored with garlic, shallot, white wine and butter. I liked it as is but could have opted for chicken, shrimp, salmon or steak to be added. For the other, we chose risotto, here a creamy rice base loaded with sweet Maine lobster and crisp shards of asparagus.
For a sweet ending, consider banana bread pudding or a crème brulée.
Between the look, the food and the service, The Vineyard Wine Company, at 8 years old, is an ideal date-night place, especially on Friday and Saturday evenings, when a musician entertains on acoustic guitar. Singles feel comfortable sipping cabernets around the bar, and families feel comfortable amid the bustle.
Jones has made himself an integral part of the community, having served on Leadership Seminole, a community-based organization, and being "heavily involved" in numerous charitable organizations. "Up until a month ago, this restaurant was my baby," He says, glowing. "But now I have a real baby of my own." Give it a year, and we'll bet that baby comes to love the bacon-Gouda meatloaf.
The Vineyard Wine Company
1140 Town Park Ave., Ste 1260
Lake Mary, FL 32746
407.833.9463